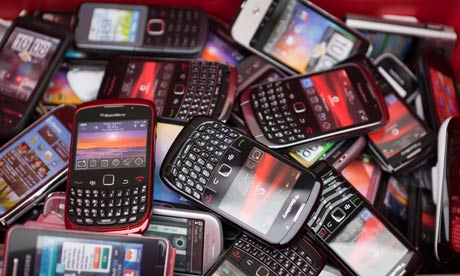 Burma hopes to place mobile phones into the hands of between 75% and 80% of its 60 million citizens by 2016. Photograph: Alamy
Vodafone and China Mobile have waded into battle in Burma against a consortium that includes billionaire speculator George Soros and Irish entrepreneur Denis O'Brien, as telecoms firms vie for a share of the world's largest untapped mobile phone market.
Telecoms will be among the first industries to be liberalised under Burma's reformist government, which hopes to place mobiles into the hands of between 75% and 80% of its 60 million citizens by 2016, up from an estimated 6% today.
If take-up is high, the entire mobile market in Burma – renamed Myanmar by the country's military junta – could be worth $10bn (£6bn) a year, with networks generating $7.3bn of those revenues, according to research by Ericsson.
Foreign companies are eager to partake in what has been described as a mouthwatering opportunity, and by Thursday's deadline, 22 bids had been submitted. Vodafone and China mobile, the world's two largest wireless companies, have made a joint application, with the British firm named as the "experienced" operator because of its extensive international holdings.
"Myanmar will be an important new market for the global mobile industry," Vodafone and China Mobile said in their statement. Liberalisation would "accelerate the pace of Myanmar's social and economic development through mass-market adoption of mobile services, similar to the mobile-led transformation underway within many other Asian and African countries", it added.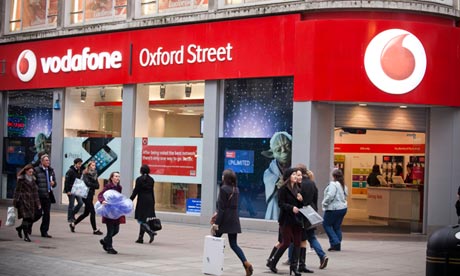 Vodafone and China mobile are the world's two largest wireless companies. Photograph: Felix Clay for the Guardian
Vodafone owned a small stake in China Mobile until 2010, and the two groups have maintained their relationship in areas such as international calls. They declined to discuss the size of each partner's share in any joint venture. A shortlist will be announced this month, and on 27 June two winning foreign ventures will be invited to join Burma's two domestic networks in offering services.
O'Brien's Digicel, which operates networks throughout the Caribbean, has assembled a consortium of investors that includes Soros, whose currency speculation "broke" the bank of England in 1992 and who is investing through his Quantum Strategic Partners fund, and Burmese property and financial services magnate Serge Pun.
"Digicel has been successful in entering recently liberalised markets and driving teledensity in underserved countries across the globe," O'Brien said. "With current mobile penetration below 10% in Myanmar, we are committed to rolling out a world-class telecommunications network and have submitted a pre-qualification application to the government of Myanmar."
Other groups bidding include Norway's Telenor, France's Orange, Singapore Telecommunications, Telkom Indonesia and Qatar Telecom.
"There's not many of these markets left in the world," Telenor executive Glenn Mandelid was recently quoted as saying. "When this opens up, the potential is so big."
Mobile penetration in Burma is low because of the historically high cost of SIM cards. Burma's former telecoms minister, Thein Tun, resigned in January after clashing with President Thein Sein over the latter's plan to cut the cost .
Limited services were introduced in 2001, and the price of activating a phone was initially about 4.5m kyat (£3,400). But state-run television heralded a new era this week, saying that 350,000 SIM cards a month will be sold starting on 24 April, with the chips costing 1,500 kyat (£1).
Videos